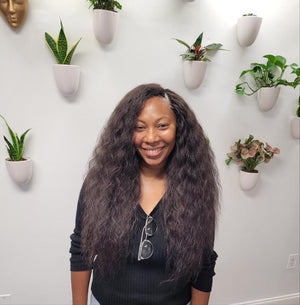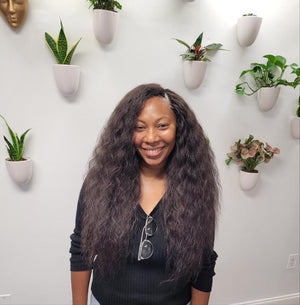 Tree braids/ lacing/ braided weave (Deposit)
Tree braiding is a technique where strands of extension hair are branched out of the braids similar to a tree. The finished look resembles a full head of hair with a small amount of braids showing. It is a protective style that does not require blending, straightening, relaxing, or curling your real hair to match the extensions. Human or synthetic hair can be used for this style. 
Starting Prices:
Cornrows- $275 (3-4 hours)
Cornrows with individual tree braids at the back- $375 (4-5 hours)
Individual tree braids- $525 (7 hours)
Touch up- $80/ hour 
*You must have a full hairline
*Your natural hair needs to be at least 3 inches long
*There is an upcharge for long natural hair
Hair recommendations- any loose or bulk hair that is easy to comb, and reacts well with water. Please ensure the hair is specifically for braiding. If the hair is too soft or silky we may not be able to use it for the style. For human hair make sure it is raw,  virgin, or unprocessed, without blunt ends,  a weft, or clips. Synthetic hair should be tangle free. Please email us at Mukisalocs@gmail.com with the hair you plan to use so we can confirm if it will work for the style. 
The deposit is non-refundable but will be applied to your service. A 48 hour notice is REQUIRED for appointment rescheduling, no exceptions. You can reschedule ONE TIME with your deposit; the new date must be within 7 days of your original appointment. A cancelled appointment, regardless of notice, will result in a forfeited deposit.