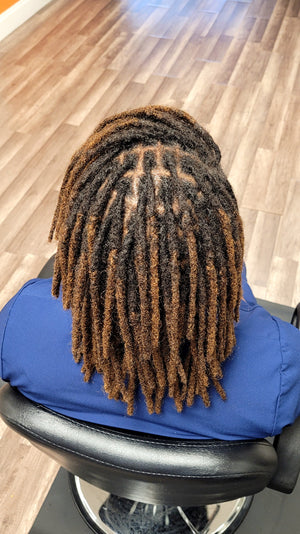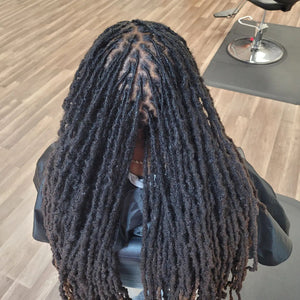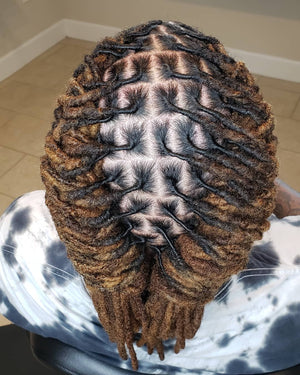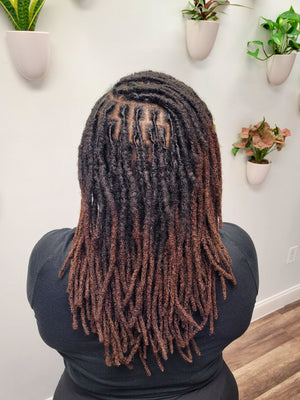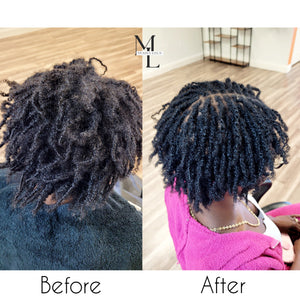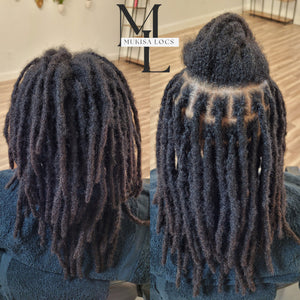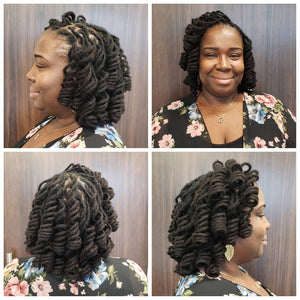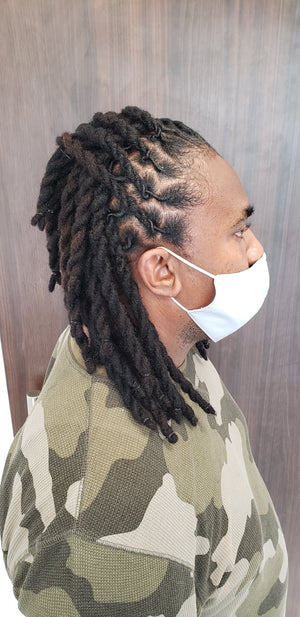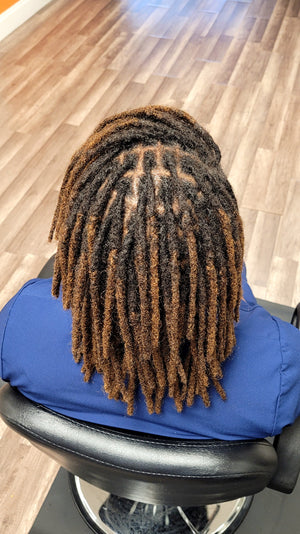 Maintenance (Deposit)
This service is for clients in need of maintenance at the roots of their locs. The shampoo & conditioning treatment is included in the price.  
*Please note that our prices increase with the style, amount of new growth, and total quantity of locs you have. *
Methods:
Interlocking
Starting price- $150
Duration- 2+ hours. For durations 3 hours or more, the maintenance fee is an additional $65/ hour.  If you have extra small/ micro size parting, need loc repairs due to slippage, and/or this is your first retightening session after installation,  please anticipate a total price of $300+. 
A latch or crochet hook is used to pass the ends of your locs through the roots in different directions until all the new growth is re-tightened. This technique does not require the use of gel, grease, oil, beeswax, or pomade. Interlocking is ideal for clients who need to shampoo their hair frequently without constant manipulation of the roots in between styles. I recommend interlocking your roots every 5-8 weeks.
Crochet/ Instant locking
Price range- $250- $330+
Duration- 2+ hours. *if you have a haircut, wicks, or extra large locs, the price will be based on the quantity of locs you have. There is an additional fee of $70 for high loc quantities.*
A 0.75 mm crochet needle is used to instantly lock your roots. The overall appearance is similar to palm-rolling but it doesn't completely unravel when wet. This method is best for all hair types. I recommend maintenance every 8-12 weeks. 
Palm-rolling

Starting price- $100 (unstyled)
Duration- 2+ hours. There is an additional charge of $30-50 depending on the quantity and length of your locs. 

A water-based gel or oil (depending on your preference) is used to re-tighten or coil the roots of your locs. This technique requires a minimum of 50 minutes under a dryer to set the retwist. Palm-rolling is ideal for clients who prefer loc styles with well-defined parts. I recommend maintenance every 4-8 weeks.
Loc Style Prices (for all methods of loc maintenance): 
Two strand twists/ Braids- $30
Updo/ Barrels- $20
Curls- $50
Twist out/ Braid out- $50
Loc petals- $30
*Please note that two strand twists and braids refers to the style after maintenance, not micro locs*.
*PLEASE READ*
The deposit is non-refundable but will be applied to your service. A 48-hour notice is REQUIRED for appointment rescheduling, with no exceptions. You can reschedule ONE TIME with your deposit; the new date must be within 1 month of your original appointment. A canceled meeting, regardless of notice, will result in a forfeited deposit.