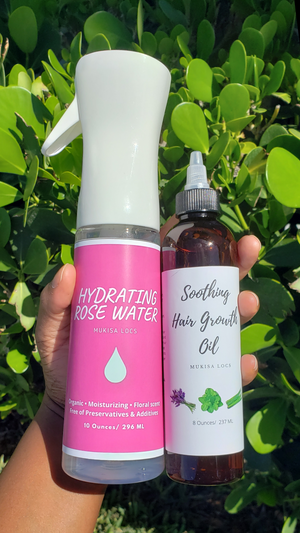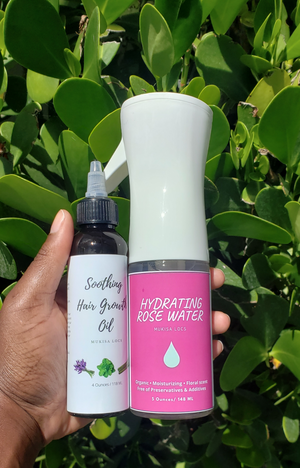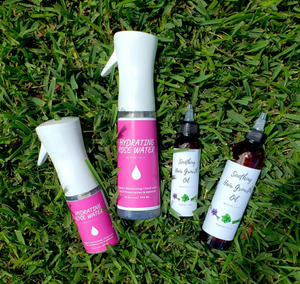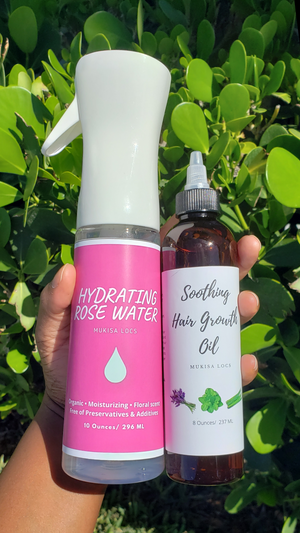 Mukisa Locs Hair Care System
Set 1 
 4 oz Soothing Hair Growth Oil & 5  oz Hydrating Rose Water
Set 2 
 8 oz Soothing Hair Growth Oil & 10  oz Hydrating Rose Water
Ingredients:
Hydrating Rose Water
Our rose water is made of pure hydrosol. It is organically processed and steam distilled. It is free of any emulsifying agents, preservatives, and additives.
Soothing Hair Growth Oil
Organic Grapeseed oil (Vitis vinifera), Organic Castor oil (Ricinus communis), Peppermint oil (Mentha Piperita) , Lavender oil (Lavandula Angustifolia), Organic Rosemary oil (Rosmarinus Officinalis), Lemongrass oil (Cymbopogon flexuosus), White thyme oil (Thymus vulgaris/ zygis), Cedarwood oil (Cedrus deodara), Rose geranium oil (Pelargonium graveolens).
Directions:
Hydrating Rose Water
Apply 2-3 continuous sprays directly on the hair or scalp at least 2-3 times per week. For best results apply our Soothing Hair Growth Oil to lock in the moisture.
Soothing Hair Growth Oil
Apply directly to the scalp on hair that has just been shampooed and conditioned, or moistened with our
Hydrating Rose Water. For best results massage the product into the hair and scalp 1-2 times per week.
*Our current processing time is 5-7 business days*